Generalnie jestesmy z Lubym cieplolubni i nie bardzo lubimy zima wychodzic z domu. Ten czas dziala na nas przygnebiajaco ze swa temperatura i szarosciami.ALe zeby calkiem nie zgnusniec i nie zwariowac, od czasu do czasu udajemy sie na poszukiwanie slonca i kolorow. Oto kilka ostatnich zimowych wycieczek.
10.12.16 Tierwelt Herberstein
Na poczatku grudnia wybralismy sie do Herberstein. Na przyzamkowej posiadlosci wlasciciele tejze zapoczatkowali prywatne ZOO. Jednak nie jest to ogrod zoologiczny jakie znamy. W Tierparku zwierzat jest o wiele mniej, ale za to na duzych wybiegach zakomponowanych w istniejacym juz srodowisku. Wiele z nich "kreci sie" po Tierparku wolno-jak indyki,pawie,pieski preriowe czy malpki kapucynki.Inne zaszyte gdzies w lesie ciezko wogole dostrzec (wilki, puma). Mozna je zobaczyc podczas pory karmienia. Grudniowy dzien okazal sie za krotki i slonce szybko schowalo sie za wzgorze, wiec mielismy zwiedzanie w trybie przespieszonym, ale na pewno kiedys tam wrocimy.
Egzotyczne ptaki  latem sa w ogromnej wolierze, do ktorej mozna wejsc, na zime zamkniete byly w cieplym pomieszczeniu. Ogladac mozna je bylo tylko przez szybke.W innym pomieszczeniu byly zolwie i pancernik.
Z mysla o najmlodszych urzadzono w wielu miejscach place zabaw, ale i duzy wybieg dla zwierzat gospodarskich . Dzieci mogly je glaskac i szczotkowac.
Zwierzeta te byly rowniez zywa dekoracja szopki Bozonarodzeniowej.
Rowniez na cieplejszy dzien zostawilismy sobie zwiedzanie przyzamkowych ogrodow i samego zamku.
30.12.16 Grüner see
Przedostatniego dnia starego roku wybralismy sie nad Grüner See. Miejsce te latem zachwyca: w szmaragdowej wodzie jeziorka przegladaja sie dostojne szczyty. O miejscu tym pisalam juz kedys:
https://eve-mazur.jimdo.com/2014/07/20/styria-odslona-3-na-polnoc-od-graz/
Dzien byl sloneczny i mrozny, liczylismy ze zrobimy ciekawe zdjecia. Na miejscu okazalo sie ze mroz jest taki, ze aparat przymarza do reki:-) Snieg zamienil sie w beton,a resztki jeziorka skute lodem.
Na dodatek mielismy tylko pol godziny, bo slopnce chowalo sie wlasnie za wzgorze.Zrobilismy kilka zdjec i ucieklismy w inne miejsce.
30.12.16 Teichalm
Do wieczora bylo daleko, wiec podjechalismy do Teichalm. Miejsce te uwielbiala nasza Sara-gory nie za strome, nie zalesione, wiec niezle wygwizdowo. No i dla nas piekne widoki. Bylismy tam po raz pierwszy bez niej. Smutno...Oczywiscie jak zwykle wialo, ale nie bylo takiego strasznego mrozu i slonko przygrzewalo. Wiatr tworzyl na sniegu piekne desenie.
Niedlugo potem machnelam akwarelke :-)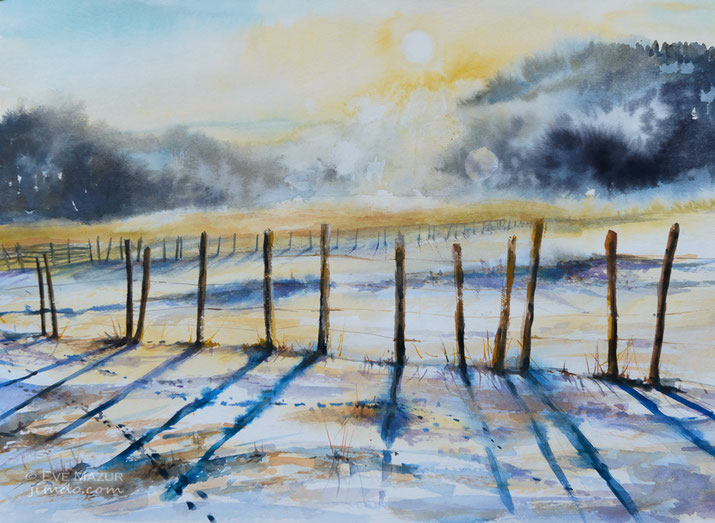 01.01.17 Mönichkirchen
W pierwszy dzien roku 2017 pojechalismy na noworoczny pokaz fajerwerkow do Mönichkirchen.
Luby fotografowal,a ja stalam z rozdziawiona buzia:-) Jak dziecko :-)
15.01.17 Koralpe
Ostatnia nasza wycieczka miala za zalozenie zdobycie "kulek". Sa to radary na szczycie.Widzimy je czesto z wielu miejsc, ale jeszcze nigdy nie bylismy tak na wyciagniecie reki. Zabralismy ze soba Tesciowa i jej zwariowanego pieska i udalismy sie w kierunku Koralpe.Kulki patrzyly na nas z gory.
Pelni zapalu ruszylismy w strone szczytu.Tak na marginesie Tesciowa ma 76 lat. Jej piesek 15...
Wdrapalismy sie ponad sciane lasu i widoki doslownie zapieraly dech w piersiach.W dali widac bylo skapane w sloncu doliny i szczyty Karawanken.
Niestety robilo sie coraz zimniej, oblodzonym stokiem ciezko bylo isc i nie chcielismy ryzykowac polamania kosci. Szczyt zachecal, ale rozsadek wzial gore i zawrocilismy. Jeszcze tam wrocimy:-)