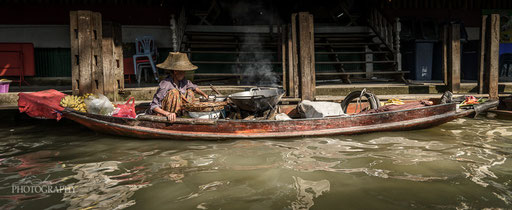 Pobodka o piatej,szybkie sniadanie i zaraz wyjechalismy do Kanchanaburi.Hotel oddalony byl od tego miejsca jakies piec minut drogi autobuesm.Przybylismy wiec na miejsce przed chmarami turystow.Ba, nawet sprzedawcy pamiatek jeszcze nie zdazyli otworzyc sklepikow.
Most na rzece Kwai.Kilka osob cos slyszalo...pare wie,ze byl taki film, ale niewiele zdaje sobie sprawe ile istnien w tym miejscu zginelo.Jest to kolejny fragment "Kolei Smierci".
Film faktycznie krecono w tym miejcu.Most wczesniej byl drewniany,pozniej w jego miejscu wybudowao stalowy.
Do dzis dwa razy dziennie kursuje nim pociag (dopuszczalne spoznienie do dwuch godzin...)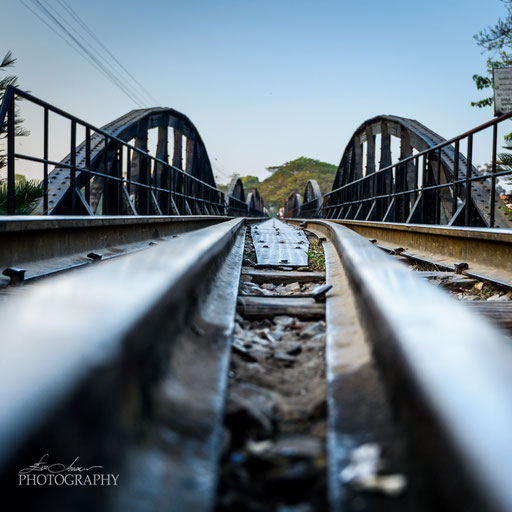 Damnoen Saduak
I zaraz kolejny punkt programu.Najpierw lodeczkami, w ktorych siedzialo sie prawie na podlodze, z napedem jak motorowki,
kanalami dowieziono nas do glownego targu.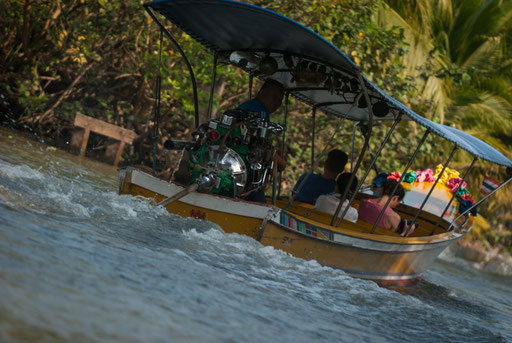 A tam, po obu stronach kanalu stragany, glebiej hale,a w wodzie pelno lodek, na ktorych rowniez kwitnal handel
Oczywiscie masa owocow,lokalnych przysmakow,ciuchow i pamiatek.Niektore rzeczy fajne,niektore kiczowate.
Nasz Przewodnik powtarzal: Wy Eulopejcycy za duzo myslicie, zastanawiacie sie, a potem zalujecie...Nie myslec za duzo...kupowac,kupowac!". I co? Racje mial.Dzis sobie znow pluje w brode,bo fajne te drewniane miseczki byly...
a nie kupilam :-)
Grand Pacific Sovereign Resort & Spa
Po poludniu dotarlismy do Cha Am-miejscowosci nad morzem,gdzie mielismy spedzic ostatnie piec dni pobytu i odpoczac po przebytej mordedze.
Pokoj w hotelu bardzo przypadl nam do gustu
Lazienka tez calkiem spora (kabina prysznicowa po lewej) z oknem do pokoju.Mala garderoba z szafa i stolikiem i pokoj z lozkiem z baldachimem plus balkon...
Generalnie hotelowy apartament mial wiekszy metraz,
niz moje mieszkanko we Wiedniu :-)
Wieczorem obeszlismy hotel, plaze, poweszylismy co i jak. Naszykowalismy reczniki, kapielowki i kremiki na wielkie poranne grillowanie
i oddalismy sie objeciom Morfeusza...
Pobodka o piatej.Wcale nie chcielismy, ale jakos nie moglismy juz spac.Dowalkonilismy do 6 rano, wstalismy, wyszlismy na balkon
a tam taki wschod slonca!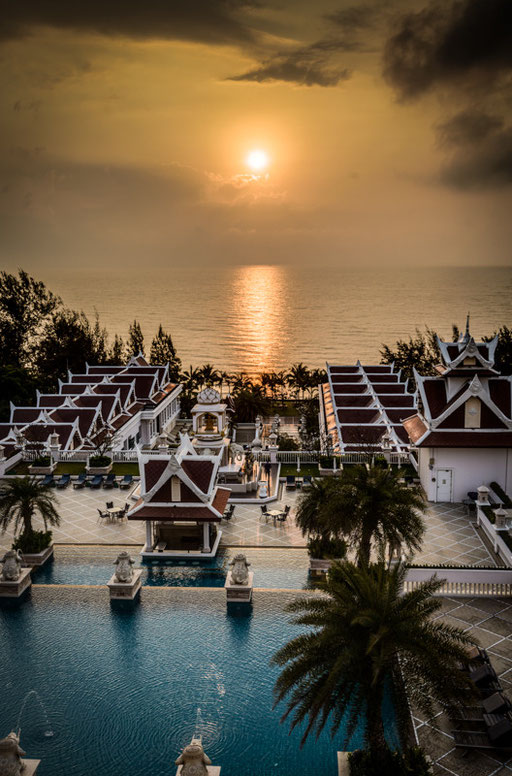 Wiec w te pedy na sniadanie (bufet jak u szejka arabskiego conajmniej).I lecimy sie zbierac na plaze.A tu slonce zaszlo i lunelo deszczem.Coz bylo robic? Odespalismy nieprzespane noce, przegladnelismy 10 tailandzkich kanalow z polityka,10 jakis rozrywkowych i w koncu z CNN dowiedzielismy sie ze w Tailandii swieci slonce...Slonce moze i swiecilo,ale ze gestymi chmurami.Na szczescie przestalo padac.Coz bylo robic? Poszlismy fotografowac.
Na szczecie dnia nastepnego wyszlo sloneczko jak cudna malutka pomarancza, bez jednej chmurki na niebie. Wyleglismy na lezaki, kapalismy sie w morzu cieplym jak zupa, zbieralismy muszelki (ktore znajduje w kieszeniach kazdych spodni do prania), spacerowalismy po plazy i sie byczylismy.Ani razu nie przyszlo nam do glowy wziac aparatu ze soba-wszak w koncu bylismy na wakacjach...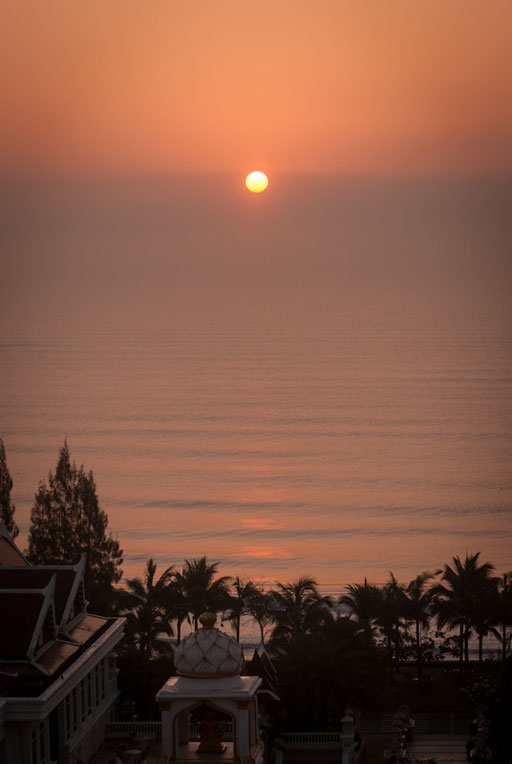 W ostatni wieczor na predko ktos nam cyknal pozegnalne wspolne zdjecie na plazy,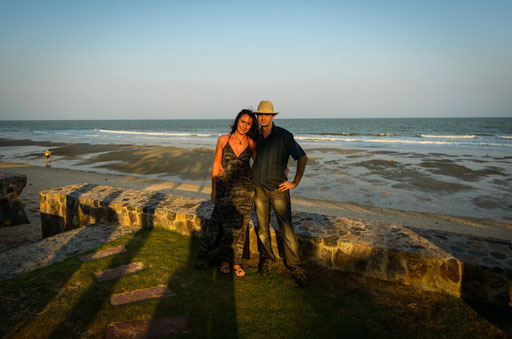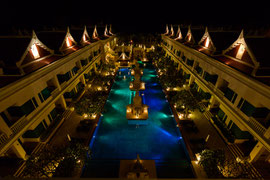 my na szybko cyknelismy kilka fotek hotelowemu basenowi ...
i juz.Pozegnalismy Cha Am,a pare godzin pozniej i Bangkok, i Tailandie.Ale tylko na jakis czas.Wierze,ze jeszcze tam wrocimy :-)
P.S
Wycieczke odbylismy z biurem podrozy (jest to nasza pierwsza zorganizowana wycieczka i nie,nikt z rodziny tam nie pracuje :-))
www.retter-reisen.at/fernreisen/reise/grosse-thailand-rundreise-bangkok-baden/2/

Celowo ta reklama,bo jestesmy bardzo zadowoleni i z organizacji,i z hoteli, wiec biuro warte polecenia.A jesli jeszcze trafi Wam sie ten przewodnik (facet z humorem i o anielskiej cierpliowsci...),to juz niczego wiecej nie trzeba do szczescia.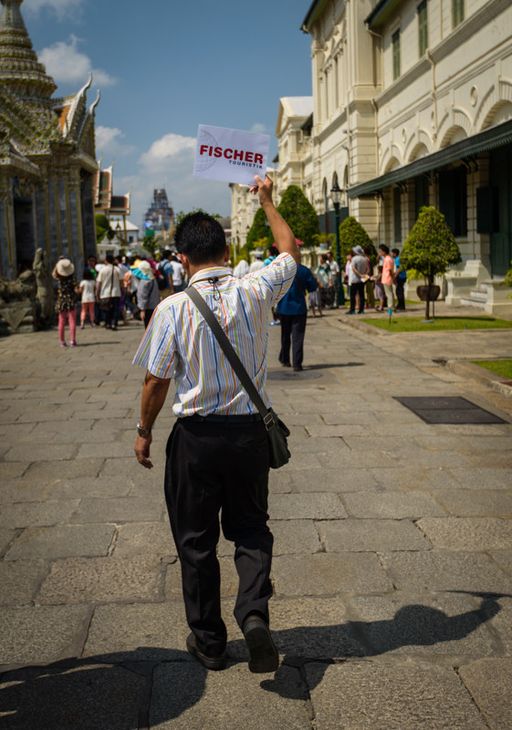 Thank you Mr.Chaiwat!
THE END  :-)