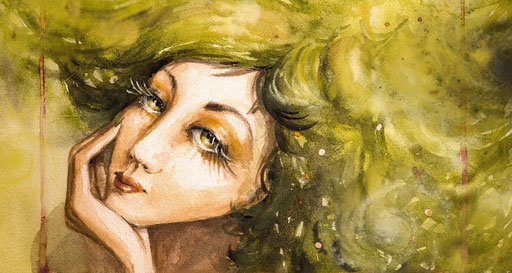 Zaczyna sie Lipiec.Jeden  z miesiecy, ktore uwielbiam...
Zauwazyliscie,ze wiekszosc fajnych slow zaczyna sie na "L"? Lipiec,Lato i cieply Letni wiatr...

Gwaltowne,Letnie burze,a po nich Lazurowe niebo i tecza...Letnie wieczory,kiedy mozna palic ognisko... Lezenie pod gwiazdami...Lezak...Lezenie plackiem na plazy...Lipy ...Ich upojny zapach i roje zlotych,pracowitych pszczol...
Looodyyyy...jakie piekne i smaczne slowo  :-)
Lemoniada...taka zimna i orzezwiajaca na letnie upaly...
Las...ukojenie w jego chlodnym cieniu.
Laguna...juz samo w sobie slowo jest cudowie piekne i ilez mozna sobie wyobrazic...
Lawenda...kolor, aromat i piekno w jednym...
Latawiec-Leciutkie papierowe cudo unoszone przez Letni wiatr....Latanie...albo plywanie-zawsze sobie wyobrazalam w wodzie, ze tak bym sie czula w roli ptaka...
Luzik ,Lenistwo...:-)
Kiedy bylam dzieckiem niecierpliwie czekalam na Lipiec.On oznaczal w 100% wakacje i swiety spokoj od szkoly.Moze nawet jakis wyjazd do tekturowych domkow w Rowach nad morzem.Wreszcie spokoj od odrabiania zadan i wczesnego wstawania.Czlowiek sie zwlekal o 9:00 na Teleranek i caly dzien w koncu mozna bylo byc na podworku.Z grupa blokowych dzieciakow obwieszalismy trzepak jak malpki.
Wymyslalismy przerozne zabawy.Niektore tak halasliwe,ze z okna pierwszego pietra zza szpaleru kolczastych roslin wylanial sie Pan Kaktusik i nas przeganial.Pan Kaktusik byl generalnie nieszkodliwy-starszy,wysoki, pachnial woda kolonska i jak mial dobry humor to rozdawal nam cukierki.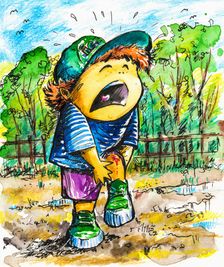 Bawilismy sie  w podchody, w chowanego i chodzilismy  " na gorki"-pozostalosci po placu budowy naszego osiedla.Czego tam nie bylo!Chyba cud jakis,ze nic sie nikomu nie stalo.A nawet jak sie stalo,to w domu byla woda utleniona.Zarla tak strasznie,ze potem juz czlowiek sam uwazal,zeby sie nic nie stalo...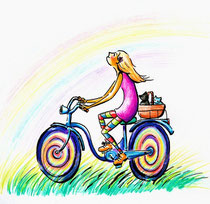 Uwielbialam jazde na rowerze.Bylam dumna,bo juz w przedszkolu odziedziczylam skladaka po starszym bracie.Rower byl stanowczo za duzy i za ciezki dla mnie,ale mial duze kola i wygrywalam nawet z chlopakami! Wypadkow jako takich nie pamietam.No...moze jeden,kiedy wymyslilam,ze jesli mozna zjezdzac na rowerze po schodach z gory,to moze mozna i wyjechac.Byly to moje pierwsze proby crossu rowerowego...(i ostatnie).Nie obeszlo sie bez wody utlenionej...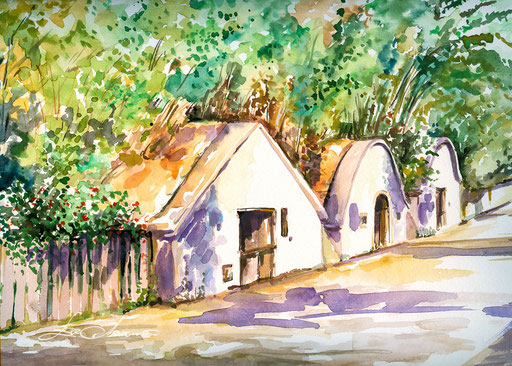 Cale dnie to byla slodka sielanka.Mamy wolaly na Dobranocki,ale latem kto by tam Reksia ogladal.Lepiej na podworku skakac w gume,grac w "zbijanego" i w "piec kamieni".I moja mama wyrozumiale przedluzyla wieczorne godziny powrotu do domu.
Wyobrazalam sobie,ze jak bede starsza i skoncze wreszcie wszystkie szkoly,to bede miala tyle czasu,ze bede mogla do woli jezdzic na rowerze i klasc sie spac, o ktorej bede chciala.I co?I rower stoi w piwnicy,a moje lenistwo zniecheca do pedalowania.Nie,jednak Lenistwo to nie jest fajne slowo...Wykreslamy :-)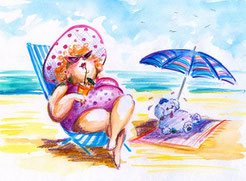 Albo lepiej zamienmy na "Leniuszkowanie"-to taka nieszkodliwa forma lenistwa.Choc teraz to sie nazywa "relax",a w sumie oznacza to samo.Ja tam wole leniuchowac....
Ale Luzik.Te jest fajne.Dni sa dluzsze.Teoretycznie ma sie wiecej czasu,wiec luzik -ze wszystkim sie zdazy.Praktycznie czlowiek sie kladzie spac po polnocy,a i tak nie wszystko zrobione.Rano z podkrazanymi oczami wstaje i leci do pracy...Hmm nie tak to sobie wyobrazalam.Mimo wszystko w Lipcu przybywa mi energi i pomyslow wraz z nia.I musze z nimi zdazyc przed jesienia.
Bo jesienia przychodza slowa na inna litere...
np Deprecha,Tumiwisim,Szarowka i takie tam...
Ale o tym innym razem.